A Court of Thorns and Roses by Sarah J. Maas
Series: A Court of Thorns and Roses #1 • Published: May 5th 2015 by Bloomsbury
Pages: 416 • Format: Paperback • Genres: YA/NA, Fantasy, Romance
My review
Status: read from June 04 to 07, 2016
First sentence:
"The forest had become a labyrinth of snow and ice."
WOW. This book was absolutely amazing and I am SO happy that I finally decided to keep reading it, because I had actually picked it up twice before (but I couldn't, honestly, read more than one page being I wasn't in the right ACOTAR mood). Anyhow, this book lived up to my expectations by 100000 glorious percent because this book was indeed glorious on every level: characters, story, plot, world etc.
The story was so great. The premise was really interesting, with the beauty and the beast similarities and everything about the Fae world. It was thrilling, addictive, fast paced, funny, interesting, steamy (like really!!) and action-packed.
Everything
I look for in a good fantasy.
The characters. I loved most of them with only a few exceptions (like Feyre's family for example...). Feyre is such a badass character and I really loved following her. I really enjoyed the fact that she's a completely normal girl (no assassin, princess or whatever - only human) but she still manages to do everything like a pro by using her brains. She is just a lovely main character. Tamlin is perfect and fantastic and so mysterious and I just love him a lot. Lucien is a great character as well, and the book wouldn't be the same without him. Rhys wasn't who I thought he would be and I'm so happy for that.
I am TEAM TAMLIN as for right
now
, but we'll see if I change my opinion when I get further into book two. I'm about 50% sure that I will transfer to TEAM RHYS, because people won't stop talking about him and I'm pretty sure, like 100%, that
things
will happen (at least from what I've heard) in ACOMAF that possibly will change my mind.
The romance was amazing. I really loved that it was more of a NA romance than a YA mostly because I haven't read a YA fantasy with a NA romance before. And I suppose it also widens the reading audience which is super. The book is a steamy one and you cannot miss it. It's cute but also sexy, so just go read it.
Sarah J. Maas is an incredible writer and I don't know how she manages to write two super successful series. I adore her writing, her interesting worlds and her strange yet lovely characters. And for this book, she decided not to end it with a cliffhanger which was rather refreshing. Despite that, I still longed for book two like crazy because ACOTAR ends with many unfinished storylines. It's not predictable where the rest of this series will go and that makes it so interesting.
And to make it clear, YES
. I loved and enjoyed this book more than
Throne of Glass
.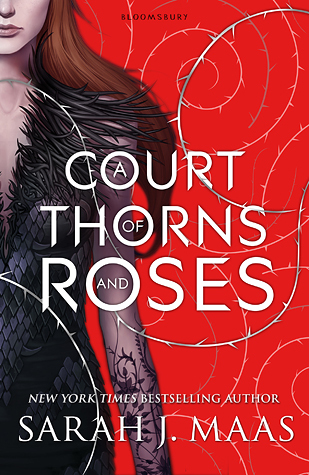 When nineteen-year-old huntress Feyre kills a wolf in the woods, a beast-like creature arrives to demand retribution for it. Dragged to a treacherous magical land she only knows about from legends, Feyre discovers that her captor is not an animal, but Tamlin -one of the lethal, immortal faeries who once ruled their world.

As she dwells on his estate, her feelings for Tamlin transform from icy hostility into a fiery passion that burns through every lie and warning she's been told about the beautiful, dangerous world of the Fae. But an ancient, wicked shadow over the faerie lands is growing, and Feyre must find a way to stop it . . . or doom Tamlin - and his world - forever.
Have you read A Court of Thorns and Roses?
Did you enjoy it as much as me?