This Savage Song by Victoria Schwab
Series:
Monsters of Verity #1 •
Published:
July 5th 2016 by Greenwillow Books
Pages:
464 •
Format:
E-book •
Genres:
Young Adult, Fantasy, Paranormal
Status:
read from July 22 to 25, 2016
Goodreads
|
Book Depository
|
Amazon
|
Website
This Savage Song was quite the adventure! This book was enjoyable and interesting -- and now I want to read all books by Victoria/V.E. Schwab!
First sentence:
"The night Kate Harker decided to burn down the school chapel, she wasn't angry or drunk."
I didn't like this book as much as I'd hoped, but I still enjoyed it. I liked the idea of monsters being created from human violence and tragedy -- I've never read anything like that before. Some characters in this book were really great. August, the male main character, was definitely my favorite and Kate, the female main character, was not too bad either, but others (let's say August's brother Leo) were much less than great.
I found it surprisingly nice that the two characters didn't have a romantic relationship!
I kept waiting (and waiting and waiting) for something
WOW
to happen, but it really didn't. At least nothing that wowed me to the extent that it made me adore the book. I really wished it had though. I also found the writing a little confusing at times, but not so often that I lost track of what was going on. I cannot forget to add that the book also was very nicely written, and not at all confusing, at times too.
Overall, I enjoyed and liked This Savage Song and
I would certainly recommend it.
I will definitely read the next book whenever it comes out!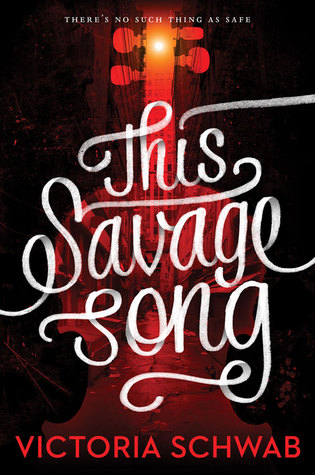 Kate Harker and August Flynn are the heirs to a divided city—a city where the violence has begun to breed actual monsters. All Kate wants is to be as ruthless as her father, who lets the monsters roam free and makes the humans pay for his protection. All August wants is to be human, as good-hearted as his own father, to play a bigger role in protecting the innocent—but he's one of the monsters. One who can steal a soul with a simple strain of music. When the chance arises to keep an eye on Kate, who's just been kicked out of her sixth boarding school and returned home, August jumps at it. But Kate discovers August's secret, and after a failed assassination attempt the pair must flee for their lives.
Have you read this book? Did you like it?