Aristotle and Dante Discover the Secrets of the Universe by Benjamin Alire Sáenz
Series:
Aristotle and Dante Discover the Secrets of the Universe #1
Published:
February 21st 2012 by Simon & Schuster
Pages:
359 •
Format:
Paperback •
Genres:
YA, Contemporary, LGBT
Status:
read from August 06 to 08, 2016
Goodreads
|
The Book Depository
|
Amazon
|
Website
This book was so beautiful and fantastic and incredible and I loved it.
First sentence:
"One summer night I fell asleep, hoping the world would be different when I woke."
Aristotle and Dante Discover the Secrets of the Universe was warm and so cosy and it made me very happy.
Okay. So I am so happy that I finally decided to read Aristotle and Dante Discover the Secrets of the Universe. So, so happy to be honest.
I loved the book very much.
The writing was easy, cheerful and clever.
I loved how Benjamin Alire Sáenz displayed his characters and how he wrote their dialogues.
I loved the writing and that the chapters were short (it felt like a small "accomplishment" when I finished a chapter and that's fun). It took no time for me to finish this book -- I read and read and read and all of a sudden I had 100 pages left. It was a real page-turner and it was very fast paced.
The best thing about the book was totally the two main characters, Aristotle and Dante.
Oh, how much I loved them. They were so incredible. The development of their friendship was lovely -- their friendship was truly amazing. Both characters were witty and real.
I really cared for them and their relationship and I wished for them to be happy.
And I actually loved Ari's and Dante's parents as well. You could tell that they were
their
parents and nobody else's and I really liked that.
The ending was great and didn't disappoint me at all.
As a matter of fact, nothing in the book disappointed me which too is a reason why I loved the book so much.
I'm too excited to read the second book that comes out in 2017 or 2018.
I cannot wait to see what happens. The author said that the second book,
There Will Be Other Summers
, will start of where the first book ended.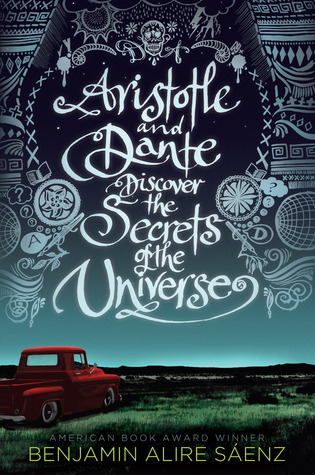 Aristotle is an angry teen with a brother in prison. Dante is a know-it-all who has an unusual way of looking at the world. When the two meet at the swimming pool, they seem to have nothing in common. But as the loners start spending time together, they discover that they share a special friendship—the kind that changes lives and lasts a lifetime. And it is through this friendship that Ari and Dante will learn the most important truths about themselves and the kind of people they want to be.
Do you want to read this book? / Or have you already read this book? Did you like?