Between Shades of Gray by Ruta Sepetys
Series:
- •
Published:
April 7th 2011 by Puffin
Pages:
344 •
Format:
Paperback •
Genres:
YA, Historical Fiction, WWII
Status:
read from August 11 to 13, 2016
Goodreads
|
The Book Depository
|
Amazon
|
Website
This is the best historical fiction book I've read. Very touching, unforgettable and so important! Everyone should read it!
First sentence:
"They took me in my nightgown."
I'm always in the mood for historical fiction, especially when it comes to WWII. Therefore, I picked this up (after anticipating to read it for a long time) and
I absolutely loved it
. World War Two is so interesting and fascinating to me and I want to read as many books as possible about the subject.
This was a fantastic book in every way.
The writing, the characters, the story, the journey, the ending -- I loved it all. I read
Between Shades of Gray
in paperback and I loved that it had maps in it! It makes it so much easier to follow the story if it's possible to see how far the characters have travelled, at least in a book like this in which
the journey is the story
.
I've never read anything like this before.
Ruta Sepetys'
Salt to the Sea
is the most similar considering setting and story, but they aren't that much alike. This book takes you on a 440 days journey from Europe to Asia which is truly incredible. I love that we get to see and follow everything (happiness, grief, love, friendship) from beginning to end.
The characters in
Between Shades of Gray
are unforgettable (like everything else in this book).
Characters in this book portray something in the story and I really like that.
And the fact that people went through this back in 1941 makes it even harder to forget the characters since they are based on survivors. Lina, Jonas and Andrius were my three favorite people and I feel like they are such an important part of the greatness of the book.
I truly recommend Between Shades of Gray and I really hope that you all will read it if you haven't!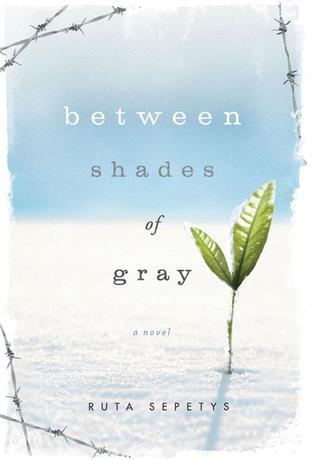 That morning, my brother's life was worth a pocket watch...
One night fifteen-year-old Lina, her mother and young brother are hauled from their home by Soviet guards, thrown into cattle cars and sent away. They are being deported to Siberia.
An unimaginable and harrowing journey has begun. Lina doesn't know if she'll ever see her father or her friends again. But she refuses to give up hope.
Lina hopes for her family. For her country. For her future. For love—first love, with the boy she barely knows but knows she does not want to lose... Will hope keep Lina alive?
Set in 1941,
Between Shades of Gray
is an extraordinary and haunting story based on first-hand family accounts and memories from survivors.
Do you want to read this book? / Or have you already read this book? Did you like?