History Is All You Left Me by Adam Silvera
Series:
-
•
Published:
January 17th 2017 by Soho Teen
Pages:
320 •
Format:
E-book •
Genres:
Young Adult, Contemporary, LGBT
Status:
read from July 13 to July 15, 2017
Goodreads
|
Book Depository
|
Amazon
|
Website
First sentence:
"You're still alive in alternate universes, Theo, but I live in the real world, where this morning you're having an open-casket funeral."
I couldn't get myself to love History Is All You Left Me as much as everybody else did. I don't really know why that is, because the characters were interesting, the story was quite interesting as well, and the writing was great. I guess I'll just have to accept that this book wasn't for me. I finished HIAYLM only a few days ago, and I can
already
feel the story fading from my memory (not the most significant parts, but the less important ones).
The first half of the book was more to my liking than the second half, which in my opinion spiralled a little out of control in many ways. (Relationships – to mention one thing that got out of hand in the end.) The beginning was what kept me reading, obviously. My impression of the ending was that it felt sort of repetitive and protracted. Maybe that is a common feeling amongst people reading a book that they aren't LOVING?
I had a hard time liking Griff or any other character, because I feel like Griff was the only person we got to know. Griff only talked/thought about Theo, and the others were sort of left out of the picture most of the time. But I decided way into the book that my favorite character was Wade. He was loyal, funny and just a nice guy! Also, I really liked the parents, all of them basically.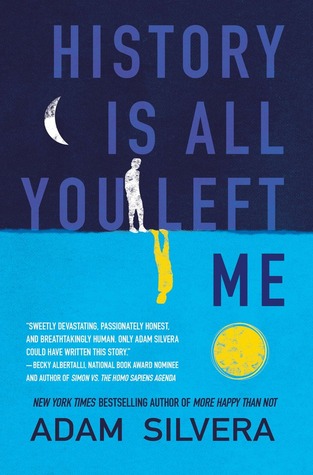 When Griffin's first love and ex-boyfriend, Theo, dies in a drowning accident, his universe implodes. Even though Theo had moved to California for college and started seeing Jackson, Griffin never doubted Theo would come back to him when the time was right. But now, the future he's been imagining for himself has gone far off course.
To make things worse, the only person who truly understands his heartache is Jackson. But no matter how much they open up to each other, Griffin's downward spiral continues. He's losing himself in his obsessive compulsions and destructive choices, and the secrets he's been keeping are tearing him apart.
If Griffin is ever to rebuild his future, he must first confront his history, every last heartbreaking piece in the puzzle of his life.
Do you want to read this book? / Or have you already read this book? Did you like it?