Eliza and Her Monsters by Fransesca Zappia
Series:
-
|
Published:
May 30th 2017 by HarperCollins
Pages:
400 |
Format:
E-book
Genres:
Young Adult, Romance, Contemporary
Status:
read from July 28 to July 29, 2017
Goodreads
|
Book Depository
|
Amazon
|
Website
First sentence: "Eliza Mirk is the kind of name you give to the creepy girl who clings to her ex-boyfriend for weeks after he's dumped her because she refuses to accept that he hates her guts."
This was actually surprisingly good and nothing like I had expected it to be (which is a good thing, as it turned out to exceed my expectations!). I really liked the easy-going writing style, and the fact that the book was fast-paced and rather devouring. I had a few problems with the book, including Eliza (mostly in the first 250 pages), and the comic parts. Otherwise, it was quite cutesy, entertaining and fun... while still dealing with important, and common, issues. Now I'm interested in reading Francesca Zappia's other book, Made You Up!
What is it about?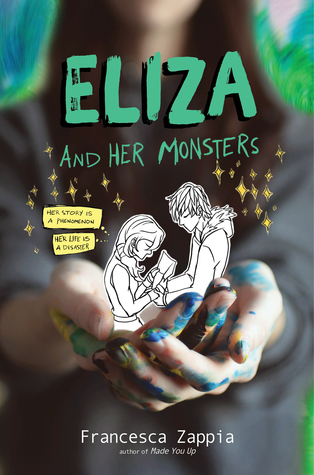 Her story is a phenomenon. Her life is a disaster.

In the real world, Eliza Mirk is shy, weird, and friendless. Online, she's LadyConstellation, the anonymous creator of the wildly popular webcomic Monstrous Sea. Eliza can't imagine enjoying the real world as much as she loves the online one, and she has no desire to try.
Then Wallace Warland, Monstrous Sea's biggest fanfiction writer, transfers to her school. Wallace thinks Eliza is just another fan, and as he draws her out of her shell, she begins to wonder if a life offline might be worthwhile.

But when Eliza's secret is accidentally shared with the world, everything she's built—her story, her relationship with Wallace, and even her sanity—begins to fall apart.
Do you want to read this book...? Or, have you already read it? What did you think?